About
Design is increasingly becoming an integral part of business strategy. If companies want to differentiate themselves in the market to win customers who are willing to buy and use their products, everything they do has to be' designed' consciously!
The necessary prerequisite for good design is a good organization, one that turns the "business" into an experience that inspires customers. Creating a good organization with clear design guidance is far more important than just to organize good design.
The Design Maturity Score indicates how well an organization establishes design, or not. 15 factors are used to display the maturity of design. This makes it possible to identify strengths and weaknesses, what needs to be developed and what needs to be secured.
The factors were developed from empirical studies and are based on the model of the "Danish Design Ladder".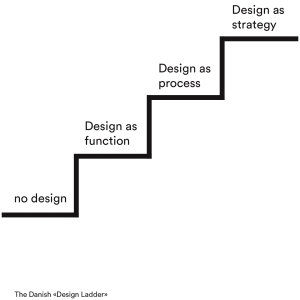 Design is employed differently in companies. Some companies focus only on the design of their products and services – they restrict themselves to Design Doing. Others use design more comprehensively, carry out Design Thinking and also design their processes. Last but not least, there are companies in which design is the starting point for all actions, in which every decision and thus also the foundation of meaning originates from a design strategy – they develop a Design Being.
The Design Maturity Score measures the design maturity in companies. The result shows where you and your organization stand, where you have strengths and weaknesses, and what the characteristics of the maturity are. This enables you to determine where you can start to improve design leadership in the company.
Because every design work is only as effective as the underlying organization!
Download a detailed description of the Design Maturity Score here.